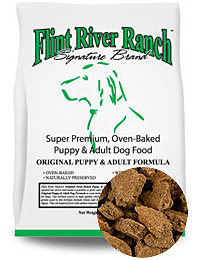 Users say that Flint River Ranch food for dogs meets the highest quality standards in nutrition and freshness. Not only do pets thrive on their dry kibble foods, they also love the taste. Flint River pet foods are made from human grade ingredients that could easily be sold in grocery stores.
Flint River Dog Food Options
Starting out with primary ingredients such as chicken, rice, and lamb, Flint River oven bakes their dry kibble so that it results in high nutritional value, delicious flavor, and digestibility. Baking converts hard-to-digest starches into dextrin which means dogs get as much of the nutritional value as possible from the kibble. All of this is accomplished without any animal byproducts, fillers, chemical preservatives, or dyes.
Offering every kind of dog food from puppy to senior, Flint River has created both kibble and nuggets. While the flavor is the same, some pet owners prefer the harder nuggets as better for their dog's teeth and gums. In addition to their mainstay kibble, Flint River also offers a lamb-millet-rice combination for a change of pace. Fish and chips are nuggets that include added herbs, digestive enzymes, and essential vitamins. Made with trout, ground millet, and herring meal, as well as sweet potato, fish and chips provide a wide range of nutrients for overall health.
Buying Flint River Products
Once pet owners decide to buy Flint River healthy pet food products, they are usually surprised and pleased to find that shipping is free on all orders over nine dollars. Ordering online is simple, and the products are shipped directly to the pet owner's home. Unlike pet foods that sit in warehouses for months and on store shelves for weeks, Flint River products are guaranteed fresh.